Former Nairobi Governor Mike Sonko has endorsed fast-rising insurance cover, Base Yetu. Sonko said that it is important for families to consider taking insurance covers since they come in handy when death or illnesses befell their family members.
The former county head narrated that he has been to several fundraisers and has seen how vulnerable Kenyans can be when unexpected accidents, illnesses and deaths occur.
"Juzi nimekua harambee fulani ya matanga enye watu wengi walisusia. It got me thinking about how vulnerable our people are when unexpected accidents, illnesses and deaths occur. Kitu ikifanyika ndio unagundua uko pekee yako na familia yenu haina marafiki, unless wewe ni dynasty," Sonko stated.
He announced that his Sonko Rescue Team will now partner with Base Yetu to help provide insurance coverage for people from low-income areas. He pledged to pay covers for 200 families, 100 in Mombasa and 100 in Nairobi.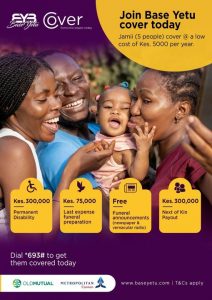 "Leo tusemezane, how can we help our people in such situations because mashida na misiba haziishi na hazinanga warnings. Kuna insurance covers zinasaidia? Sonko Rescue Team would love to partner and help as many people from low-income areas as possible."
"Nafuatilia comments. However, in my next update, I shall personally pay for cover of the first 200 families 100 from Kanairo and 100 from Mombasani. Stay tuned and be ready with you details. Enjoy the rest of your Sato," he posted.
Base Yetu, a community program focused on empowerment and smart savings to care for tomorrow's eventualities, helps Kenyans secure their future and that of their loved ones.
The Base Yetu Covers enable you to insure 5 of your loved ones with as little as Ksh. 5,000 per year, and they will be entitled to benefits that cover permanent disability, funeral expenses, and next-of-kin payouts.