Recently, revelations have surfaced regarding the Co-operative Bank of Kenya's questionable treatment of 169 former employees who were downsized years ago. The bank allegedly employed dubious strategies during legal proceedings to prevent the applicants from appealing a verdict that favored the bank.
These terminated employees are now seeking compensation exceeding Sh 800 million for their alleged wrongful dismissal. Subsequently, their employer purportedly recruited new talent, including individuals from the families of senior executives and board members.
Judge of Appeal Asike Makhandia has taken action by instructing Co-operative Bank to furnish the applicants with the court transcripts that influenced the decision made on February 9, 2023.
"The judgment was issued on February 9, 2023, and the dissatisfied applicants filed a notice of appeal. According to Rule 82 of the Court of Appeal Rules, 2010, the applicants were required to submit the record of appeal within 60 days from the date of filing the notice of appeal.
This deadline was not met due to the unavailability of typed proceedings, which were only provided on July 3, 2023, after the 60-day period had lapsed," reads a part of the ruling.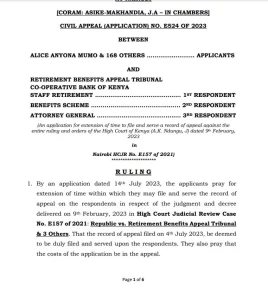 In this context, the judge has raised concerns about the ruling that favored Co-operative Bank of Kenya, suggesting that the court failed to adequately assess the evidence presented by the terminated employees in support of their case.
"In the appeal record, the applicants have listed 23 grounds of appeal. One of these grounds asserts that the learned Judge erred in fact and law by inadequately evaluating the evidence presented by the appellants in support of their case, leading to the dismissal of their application.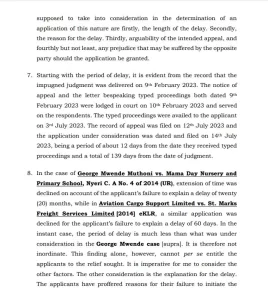 The applicants argue that they had raised legitimate questions and concerns that deserved thorough consideration," notes Judge of Appeal Asike Makhandia in a ruling dated October 27, 2023.
This new appeal, filed in court, has the potential to set a precedent for future rulings in Kenya, as it questions the external and internal influences that corporations may exert to manipulate court judgments, as evidenced by the judge's skepticism about a fellow ruling.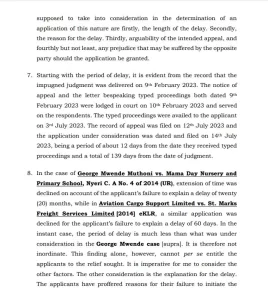 Furthermore, this development raises concerns about the credibility of former National Land Commission vice-chairperson Abigael Mbagaya's statement in a Milimani Court. Mbagaya asserted that a disputed parcel of land in Nairobi's Donholm estate, valued at Sh 1 billion, belongs to Co-operative Bank of Kenya CEO Gideon Muriuki Gidjoy Investment Limited.
Simultaneously, members of Sowesava Self-help group claim ownership of the same land.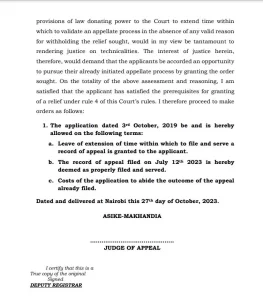 In response, Gidjoy Investment Limited, in court filings, vehemently maintains that the Sowesava Self-help Group is involved in fraudulent activities aimed at deceiving the tier 1 bank's chief executive officer.