Kenyans should prepare for Raila-Karua leadership, according to Interior Principal Secretary Karanja Kibicho, citing intelligence evidence that he claims favours the former Prime Minister.
In an interview, the self-assured public servant claimed that President Uhuru Kenyatta is aware that Raila Odinga will win by 60% of presidential votes in the first round, which is why Uhuru will not publicly campaign for Raila Odinga.
Raila-Karua is expected to receive 60 per cent of presidential votes in the first round, according to intelligence data. Raila Odinga's presidency should be anticipated by Kenyans.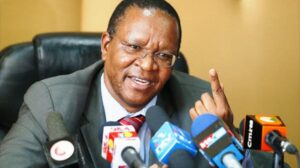 Kibicho, a close associate of Raila Odinga, claimed that the choice of Martha Karua as Raila's running mate made the Mt Kenya area slick for Dp Ruto, who had been gaining traction in recent days. He has now urged Kenyans to get ready for Raila Odinga's five-year Presidency.
Dr Karanja Kibicho has now predicted that Raila Odinga will win the August elections. Dr Miguna, on the other hand, has slammed him, claiming that Raila Odinga would not win the polls and that William Ruto will triumph.
Elections in 2022 are approaching, and we are all looking forward to electing new and fresh leaders to represent us at various levels. The presidential election, on the other hand, is crucial to the majority of Kenyans because it will influence how their wants and problems are addressed. According to political analysts, the 2022 elections will be a referendum on the economy.
When it comes to the 2022 elections, William Ruto and Raila Odinga are the two leading heavyweights, and we want to make sure that the elections are free and fair. Ruto is riding the hustler wave, while Raila is counting on Uhuru and Kalonzo's help. We definitely expect more political drama the more we near the 2022 elections as more surprises are expected to check in. How we hope is the country stays peaceful.