Independent Electoral and Boundaries Commission (IEBC) Tribunal Disputes has dismissed petition challenging Kakamega incumbent senator and gubernatorial hopeful Cleophas Malala's clearance to contest in August election.
According to Malala, the electoral commission's tribunal quashed the case seeking to compel the electoral body to bar Malala from contesting for Kakamega gubernatorial position over forgery of degree certificate claims as lodged by Fred Muka on 3rd June, 2022.
"IEBC Tribunal dismisses petition challenging my clearance to run as the second governor for Kakamega county. Psalms 105:15; Touch not my anointed ones, do not harm my prophets" Malala posted on Facebook.
Fred Muka in his petition had argued that Malala forged both degree and form four (4) certificates. He claimed that Malala purported to have graduated from United States International University (USIU) in August 2011 but received the degree certificate in August 2019.
Muka sought the Independent Electoral and Boundaries Commission (IEBC) to revoke Malala's clearance certificate pending the hearing and determination of the lodged petition at the Commission's tribunal.
"That the nomination was improper due to the fact that the genesis of Malala's degree certificate and KCSE has not been resolved" the petition reads.
He claimed that Malala's form four certificate's KNEC code from Friends School Kamusinga reads differently from school code, raising alarm of forgery.
Last week, Felix Ongandi also petitioned with IEBC Disputes Resolutions Committee that is chaired by Willis Otieno, seeking the commission to revoke Malala's clearance certificate for allegedly obtaining University degree falsely.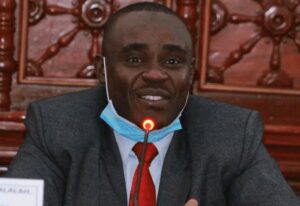 The Commission tribunal has served Malala a greenlight to revamp and spearhead his campaigns and rally electorates to support his bid of clinching to the county's top seat.
Malala will battle for the seat with Orange Democratic Movement (ODM) candidate Fernandez Barasa, who resigned from Kenya Electricity Transmission Company as Managing Director.
Barasa is enjoying the backing of Azimio – One Kenya as Malala flys the Kenya Kwanza flag.