Usawa party presidential hopeful Mwangi Wa Iria has staged protests over the skyrocketing prices of food stuffs such as maize flour.
Wa Iria faulted Jubilee government for allegedly hiking the prices of food stuffs to overburden the low income earners and hustler nation fraternity.
He urged Kenyans to join his "reduce Food prices" train that might compel the government to consider lowering the food prices.
"As food prices Kee skyrocketing, it will be unjust for Kenyans to line up and vote yet their families sleep hungry. Let us demand for price reduction of the basic food commodities" Wa Iria protested.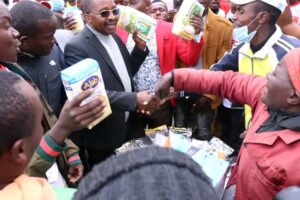 The Usawa party leader was disqualified by the Independent Electoral and Boundaries Commission (IEBC) for failing to meet the requisite threshold of collecting at least 2000 valid signatures from 24 counties out of 47 counties.
Wa Iria has lodged petition with the supreme court today, Tuesday, 28th June, 2022, seeking the supreme court to halt the 2022 general election until he is included into the race.
Wa Iria's protest follows DP Ruto's lamentations on the historic Maize flour that is reportedly retailing at more than ksh200 per packet.
Ruto proposed Jubilee government to subsidy farm inputs that could hopefully allow farmers to produce enough for consumption and surplus for sale.
"A packet of Unga is now retailing at a historic price of more than Sh200. It is sad. Millions of Kenyans are burdened by the high cost of living because of failure to put in place interventions such as farm inputs subsidy that could allow farmers produce enough to eat and surplus for sale" he noted.
He added that Kenya Kwanza government will breath hopes to overburdened hustlers by reducing the prices of food stuffs in the first weeks of taking power.
"Those crying about the crisis are responsible for this crisis due to their misplaced priorities. Kenya Kwanza — through its Bottom-Up Economic Plan — will address this problem" he added.