The 2027 presidential campaigns have since kicked off, hence the heating political temperatures in the country, political analyst Martin Andati says.
He argues that it is for this reason that opposition chief Raila Odinga has renewed his rivalry with the ruling side led by President William Ruto.
The commentator suggests that Raila is trying to keep his relevance, with an eye on the 2022 election, where Ruto will most likely try to secure re-election.
For him, Raila's criticism of the government is, therefore, not entirely about the well being of Kenya but also has something to do with his ambitions.
"As they challenge the government, the opposition is also focused on 2027 and that is why they will be getting more vocal," he told the Sunday Standard.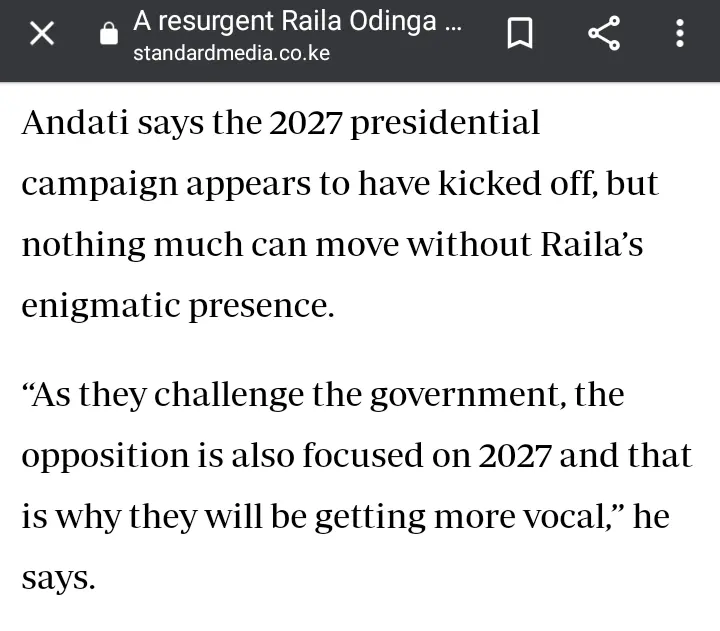 Raila has this week repeatedly bashed Ruto over his plans to hike taxes, further taking issue with his purge on the Directorate of Criminal Investigation.
Andati adds that to fortify himself and his alliance in readiness for 2027, Raila will also be seen trying to have a say on who takes the positions expected to get vacant soon at the national poll body IEBC.
Andati notes that Raila should also be expected to try to protect the four commissioners who stood with him after the August election.
"The law is very clear on how the replacement of commissioners is supposed to be done, but he may also not want to jeopardise the tenure of the four remaining commissioners who supported him," he says.