Museveni's son, General Muhoozi Kainerugaba has caused another stir after accusing Sophia Wanuna of KTN News of convincing his father to ban him from Twitter.
On Tuesday, October 18, the army general claimed that the Kenyan journalist had asked his father to block him from accessing the social media site.
Museveni announced a day earlier that he had discussed the consequences of his online rantings with his son and instructed him to leave Twitter. However, he did not clarify whether General Muhoozi would deactivate his accounts or take a break from social media.
In response to the directive, the son called the said journalist to him and emphasized that he was an adult and could not be banned from using Twitter.
Museveni's interview with Sophia Wanuna
President Yoweri Museveni during an interview with Sophia Wanuna of KTN on October 16, 2022.
"I hear that a journalist from Kenya has asked my father to ban me from Twitter. Is that a joke? I'm an adult and no one will stop me!" he ranted.
His comments came days after his father was interviewed by KTN News journalist Sophia Wanuna.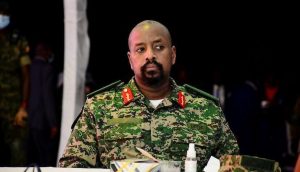 In the interview, Museveni condemned his son for causing tensions between Kenya and Uganda, noting that it was unwise for the general to threaten to take Kenya.
"If Muhoozi tweeted about sports and things that aren't controversial, that wouldn't have been a problem. But talking about other countries, or even Uganda's politics, is what he shouldn't and won't do," Museveni lamented, seemingly irritated by his son's behavior.
During a conversation with a Ugandan TV channel on October 17, a day after he was interviewed on KTN NewsMuseveni further revealed that he restricted Muhoozi from tweeting.
"He's going to leave Twitter. We've had this discussion. Twitter is not a problem. The problem is what you tweet.
"Talking about other countries and Uganda's politics is something he should not and will not do," he said.
Therefore, Muhoozi's recent attack on the Kenyan journalist did not go down well with online users, who wondered why he still made controversial statements despite being banned from Twitter.
"I like that you understand personal accountability, the custom of a father being responsible for the child's actions is unconstitutional," a tweep wondered.
"Just because President William came to your country and never commented on your jokes about taking Nairobi doesn't mean he was happy," another comment read.