Ugandan President Yoweri Kaguta Museveni has apologized to Kenyans and the Kenyan government following a flurry of inflammatory tweets by his son General Muhoozi Kainerugaba.
The long-serving Head of State appealed to Kenyans to forgive the Ugandan nation at large for the controversial tweets posted by his army son.
Museveni stated that it is imprudent for public officers, either serving in the military or civil service, to make adverse comments or appear to interfere with the internal affairs of neighbouring countries.
"I ask our Kenyan brothers and sisters to forgive us for tweets sent by General Muhoozi, former Commander of Land Forces here, regarding the election matters in that great country. It is not correct for Public officers, be they civilian or military, to comment or interfere in any way, in the internal affairs of brother countries," his statement read in part.
Museveni rebukes his son
Museveni noted that criticism or opinions on the political ongoings in a brother nation can be formally voiced at the Peer Review Mechanism of the African Union or confidential interactions among presidents at EAC and AU fora.
"The only available legitimate forum is the Peer Review Mechanism of the African Union or confidential interactions among us or EAC and AU fora –not public comments," he added.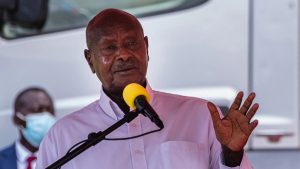 President Museveni further clarified why he promoted General Muhoozi to a higher military rank amidst the controversy. He stated that albeit he committed a mistake, his positive contribution to the military outweighs the wrong.
General Muhoozi was yesterday dropped as the Commander of Uganda's Land Forces. He was subsequently promoted to the rank of a full general and also retained as the Senior Presidential Advisor in charge of Special Operations.
"Why, then, promoted him to full General after these comments? This is because this mistake is one aspect where he has acted negatively as a Public officer. There are, however, many other positive contributions the General has made and can still make. This is a time-tested formula –discourage the negative and encourage the positive. Very sorry, ndugu zetu Wakenya. Also sorry to the Ugandans who could have been annoyed by one of their officials," he added.