Veteran politician and accomplished lawyer Paul Muite has come out to refute reports of his purported ailment. The senior counsel rubbished claims that alleged his sudden emaciation was a result of a cancer infection.
In a tweet on Friday, the Safina party supremo said the reports of his sickness were not true, adding that he had shed off weight due to his old age.
Muite further disclosed that at the time of penning the tweet, he had just concluded a morning jog at Ngong Forest.
"Reports on social media that I am sick with cancer are not true. Given my age, I have had to shed weight on purpose to keep sugar levels where they should be otherwise I have never felt better. Enjoyed 1 and 1/2 hours jogging in Ngong forest this morning," Muite tweeted.
Social media claim Muite's ailment
The reports of Muite being sick were sparked by a photo of himself heavily circulated on Twitter making him a trend for the better part of Friday.
In the photo, the Senior Counsel appeared to have lost some weight.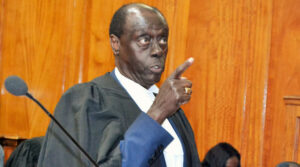 City lawyer Ahmednasir Abdullahi also confirmed that Muite was in good health, saying that he had lunch with him on Thursday.
"I had lunch with Hon Paul Muite SC yesterday, had known him for 30 years and meet him regularly on a weekly basis and was dismayed and utterly disappointed with the malicious rumours on his health. Paul is in very good health," Ahmednasir tweeted.