It is said that only a parent can understand fully the pain of losing a child. The late Frank Obegi's dad spared a few minutes and spoke to the media after his son's mutilated body was found dumped in Kijabe forest.
Evans Bowendo narrated the sad story of his son's demise, adding that he learned about his son's death through one of his friends. Evans disclosed that Frank went missing suddenly while accompanied by his dear son.
The sad story that shook the Internet involved Frank Obegi's murder and three others. Frank Obegi's dad also stated that he didn't fully understand where his son's wealth was coming from, adding that he thought that his son did academic writing and sold air tickets.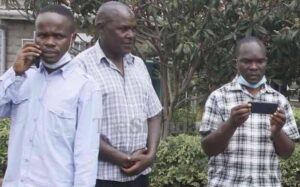 Evans stated that that was the information he knew as narrated by his son when he left his matrimonial home earlier in February of this year. He stated that he was shocked that his dear son was dead, adding that he couldn't understand what made his son get killed the way it happened.
Frank Obegi's dad narrates his son's lavish lifestyle
He stated that he discovered that his son had a lot of money, adding that he could see him on flights and in Mombasa, as was revealed to him by the photos his son posted on social media. When his father questioned him about his money, Frank would argue that he got the money from the commission benefits he received from the kind of business he was doing.
His brother narrating the story stated that because his sibling was a blogger who was known, it didn't make him doubt his wealth at all. Our condolences are with the family of the late Frank Obegi, a well-known Twitter influencer. May he rest in peace. Share your insights with us down below. Also, read. Find other articles here.