The parliament is free to discuss the Finance Bill 2023 and even forward it to President William Ruto to be signed into law, Justice Hedwig Ong'udi has said.
She was responding to a suit where Busia Senator Okiya Omtatah had moved to court seeking to bar the bill from being discussed by the house.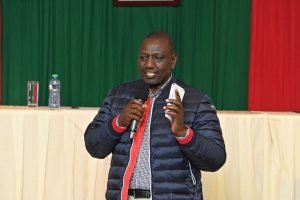 Omtatah and four others had moved to court seeking to block the bill, claiming it has 30 sections that contravene the law on matters taxation.
Justice Ong'udi on Monday certified the petition as urgent, saying it should be heard on priority basis since it raises triable issues.
She directed Omtatah and his four co-petitioners to serve Attorney General Justin Muturi, National Treasury Cabinet Secretary Njuguna Ndung'u and National Assembly Speaker Moses Wetangula with the suit within three days, after which they will have a week to respond.
The development comes days after Omtatah openly warned Ruto that he would take him to court of he did not take the bill back for revision.
"You are my friend Mr President but the Constitution is a bigger friend to me. I plead with you, I have already prepared a petition to go to court. But when I heard you were coming to Busia I did not file it last week. I held on. I pray that we relook at this Bill. If we can avoid fighting in court it would be good as it is bad for friends to fight," he told Ruto in Busia.
But Ruto has been adamant on the bill, and has refused to go back on it despite warnings.
His allies have on their side held that it is only through the proposed additional taxes that the government can continue running.
This is as they claim to have inherited a broke government from former President Uhuru Kenyatta.