Central Bank Governor Patrick Njoroge must leave office if Kenyans are to enjoy the pledges made by President William Ruto, one of Ruto's allies has said.
Most of Ruto's campaign promises, especially those touching on lowering the cost of living, are yet to be kept, with the President blaming it on limited funds.
But Imenti Central MP Moses Kirima is blaming it on Njoroge and other high ranking state officials who served under former President Uhuru Kenyatta.
He says that institutions like CBK, KRA and National Treasury officials are the ones making life hard for Ruto by sticking to the policies used during Uhuru's time, which landed the country where it is now.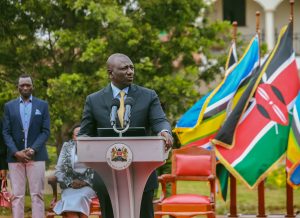 For the UDA MP, Njoroge and the others must therefore leave office as part of the monetary policy change Ruto needs to transform things in Kenya.
"To me, the CBK governor [Patrick Njoroge] must leave the office for us to achieve what we promised the common man. He keeps saying the economy is stable but people have no money at all," the parliamentarian told The Star.
The MP cites among others, the proposed removal of bank withdrawal limits.
"It means we will not meet what we promised our voters. We have institutions that existed before we won the elections. They are the ones which determine how the economic situation will pan out," he is further quoted.
Ruto and his deputy Rigathi Gachagua have also blamed the situation of shortages of funds and poor economical decisions made by Uhuru.