Chief Administrative Secretary for the Ministry of Industrialization, Trade & Enterprise Development David Osiany has rubbished claims that he is Deputy President William Ruto's informer within the Azimio One Kenya Alliance.
Osiany has been under sharp criticism after his wife Syombua Osiany, a renowned radio presenter, congratulated Ruto for winning the presidency.
His accusers claim that it is rather ironic that the CAS was serving as Raila's agent at the Bomas of Kenya, yet his spouse was rooting for their flagbearer's main competitor.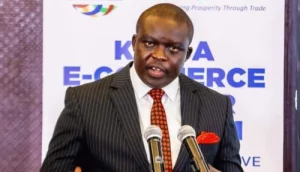 Former Raila Odinga aide Wafula Buke attacked the voluble CAS, claiming that he had divided loyalty.
"The wife to David Osiany…that radio girl Syombua Osiany was quick to congratulate Ruto. How do you pray for victory for a side your husband is opposing? Now the DOTS are adding to the role of David Osiany as an informer in Azimio camp," Wafula Buke wrote on Twitter.
In a quick rebuttal, the former student leader scoffed at Buke for propagating rumuors to tarnish his reputation.
"I can forgive others for clout-chasing & rumour-mongering on this app, but certainly not you my brother. You know me better than the insinuations you're helping peddle. Much better. I have ignored all others, but couldn't ignore this. Speak from a point of knowledge, not innuendos," he replied.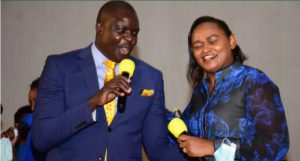 Osiany dares Pius Kinuthia to substantiate accusations
The CAS also picked an online fight with ODM's Muranga senatorial candidate Pius Kinuthia for peddling falsehoods about him.
"To imagine characters like Pius Kinuthia
who have done ZILCH for Azimio would drag my name in mud in pursuit of followers & clout is TRAGIC! Confronted him to explain his post, he said, 'let's talk at 10am. Abraham Mutai you're better than joining the chorus of songs you know not," he posted.
Kinuthia however stood his ground, claiming that he has a dossier that will expose the role that the CAS played to deliver Ruto's win.
"Bro. I have your file. Relax. No fights. I am not after any followers or clout. Whatever I have done for Baba for the last 13 years is public bro. Do not defend yourself," he replied.
The infuriated CAS dared the former senatorial candidate to publish his purported file failure to which, he will take legal action.
"Put it HERE!! This minute. Bring the 'file'. And if you don't, I'll make you pay for this. So go right ahead and make it PUBLIC. PEACE will come after you PUBLISH this FILE. And this is the one time I am DAMN serious. You can besmirch my name any other way as others have done, but I CANNOT allow you to do this with an emotive issue as this at a time half of the nation is aggrieved. My HALF!!! Do it NOW!" Osiany demanded.