Former President Uhuru Kenyatta will try to keep the Jubilee Party at all costs, as such makes him to some extent politically armoured and protected, political analyst Martin Andati says.
Andati says that Uhuru really needs Jubilee, and needs it to remain in the Azimio La Umoja coalition, and has already began seeing the benefits of that, only nine months after he left power.
He argues that it is because of his membership in Azimio that the recent allegations from the government side that him and his family have not been paying taxes have gone down.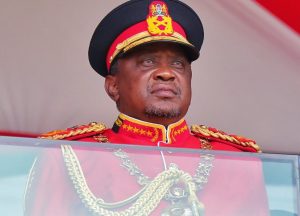 Andati observes that Azimio protected Uhuru from the tax harassment Kenya Kwanza had unleashed on him, this being one of the reasons he needs a party in the opposition for similar assistance in future.
"Ruto had pushed him to the wall and taken all the MPs, and then they were being pushed on the tax issues. From the time they started fighting those wars and engaging in street protests, you can see the issue of tax harassment has stopped," he writes in The Star.
He points out that Uhuru has to retain the party, even if most of the MPs elected through it will leave, and retain it as a bargaining tool in Azimio.
He also says that the Kenya Kwanza argument that his retirement from State House means he must now leave the political arena is just an attempt to push him out of the way but makes no constitutional sense.
Andati has wondered why this narrative is not being used on Azimio boss Raila Odinga, a former Prime Minister, Wiper boss Kalonzo Musyoka (former Vice President) or Prime Cabinet Secretary Musalia Mudavadi who is a former Deputy Prime Minister.
"On termination of Uhuru's retirement benefits, remember Kalonzo Musyoka is a former vice president and enjoys benefits. He is active in politics with party leaders.
The same case is with Musalia and Raila. You cannot selectively argue that it will only apply to Uhuru. That law has a lot of questions," he writes.