Kenyan sprint sensation Ferdinand Omanyala has been eliminated from the ongoing Oregon World Championships final after finishing fifth in the semifinals.
Omanyala clocked 10:14 seconds in the race that took place early Sunday, July 17.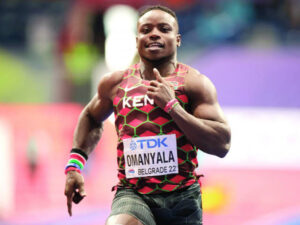 The 100m champion finished fifth after Jamaica's Oblique Sevilla (9:30), Marvin Bracy (9:93), Aaron Brown (10:06) and Nigeria's Favor Oghene (10:12).
An image of Ferdinand Omanyala during the World Championship race in Oregon on July 16, 2022.
Omanyala qualifies for semi-finals
The Kenyan star had qualified for the semi-finals after finishing third in the first race where he clocked 10:10 seconds.
After the race, media houses took to social media to support the athlete who had to overcome many hurdles before traveling to the US for completion.
Kenyans also called on the government to investigate the controversy surrounding visa processing delays, which they believe played a role in Omanyala's performance.
"Well done Omanyala. Despite everything you went through, you did what you had to do! We are proud! As for the Ministry of Sports, if what we are hearing is true, the despicable act must be investigated and action taken against those responsible," said Citizen TV journalist Willis Raburu.
After the delays in obtaining his visa, Omanyala had just three hours to prepare for his first race, which took place at 4:30 AM on Saturday, July 17.
Despite the challenges, Omanyala expressed looking forward to putting in a great performance at the international competition.