Principal Interior Secretary Karanja Kibicho believes the country will not have to weigh on its budget in a run-off, insisting that Azimio la Umoja's Raila Odinga will win the presidential vote of August in the first round.
Speaking during an interview on Citizen TV with Waihiga Mwaura on Tuesday, May 31, Kibicho argued that he based his feelings on data he was aware of.
Kibicho backed ICT CS Joe Mucheru, who previously said Raila would overwhelmingly beat his closest rival, DP William Ruto, in the first round.
"We are not talking about emotions. We talk about facts. If you ask me, for example, what the data says today, and because I am entitled to my answer as a public servant, I will give it to you as it is.
Principal Secretary of Interior Karanja Kibicho appearing before the National Committee on Tuesday, February 8, 2022.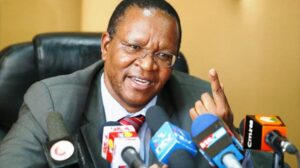 "You were briefed here by CS Mucheru. That's what the intelligence data says. A 60% victory in the first round. There is a difference between rumours and facts. The noisemakers even use Photoshop. For us, we don't deal with those perceptions,"
Kibicho said while defending Mucheru who has come under fire for supporting Raila.
He further added that the burden of proof then shifts to rivals who must counter the information provided if they doubt its legality and reality.
"If the data you gave me is misleading, please offer another one and indicate where you received it. You cannot criminalize someone for giving you the information you requested,"
Kibicho added.
Kibicho further accused Deputy President William Ruto of manipulating images of his rallies to create a perception that he enjoys massive support across the nation. The PS was in particular with Ruto's recent Kirinyaga rally.
There are people who will make noise and do all sorts of photoshopping…I saw a photo of my town Kagio that has one road that three vehicles cannot pass side-by-side. But their images showed their rally had a crowd of about 2 kilometers wide on the same road," Kibicho said in an interview with Citizen TV.
"That is perception creation that is very far from facts."
PS Kibicho added.