President William Ruto is most likely up to no good and is harbouring harmful plans for the rest of his rule, Wiper leader Kalonzo Musyoka has warned.
Kalonzo is among those who opposed Ruto in the August elections, being a principal of the Azimio coalition, which had Raila Odinga as it's candidate.
He now says that Ruto has already began showing early signs of subjecting Kenyans to dictatorship, since he is already making every decision.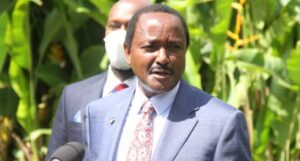 For him, the fact that Ruto is not even waiting for his cabinet to be in place before making decisions is alarming, and Kenyans need to be very worried.
"The president, as the Head of State and Government, exercises the Executive authority of the Republic with the assistance of the Deputy President and Cabinet Secretaries. The Constitution does not give the president the leeway to impose decisions on the country just because he is president," the former Vice President said yesterday, reports The Standard.
He stated that Ruto's actions would lead to unpredictability and unsustainable policies because he is singlehandedly making every decision.
He specifically took issue with his purge on the Directorate of Criminal Investigations' Special Service Unit and engagement with East African neighbours to pursue local fertiliser manufacturing.
"As far as Kenyans know, Ruto has no Cabinet. His nominees for CSs are being vetted by the National Assembly. Nominees for Principal Secretary positions are equally going through a vetting process," the politician added.