The Greece based Inform Lykos Firm in Athens has been out to task to print ballot papers for August 9 election.
According to the report by People Daily, the Greece Embassy has denied to process visa for 8 individuals to visit the Lykos Firm to monitor the printing of ballot papers. The embassy insisted that only cleared candidates to vie for the top seat will be cleared to visit the firm over security risks.
The electoral commission Vice-Chair Juliana Cherera, Raila Odinga's Azimio – One Kenya representative Ben Agina, Deputy President William Ruto's United Democratic Alliance (UDA) representative Anthony Mwaura and Religious leaders representative Rev Joseph Mutie, landed in Athens yesterday (Thursday) morning to inspect the last part of printing of the presidential ballot papers.
Due to security risks, Greece Embassy denied others visa citing that the number was too big to be accommodated in the printing space.
"We really do not know why they
have denied some visas. I think maybe because they thought that the numberi s too big," the source told the People Daily.
The security agency yesterday nubbed three foreigners at the Jomo Kenyatta International Airport (JKIA) with materials highly suspected to be ballot papers.
Directorate of Criminal Investigations officer boss at JKIA, Geoffrey Kathurima, said that the three are detained at JKIA police custody after recording statements awaiting to be grilled.
"The three are being grilled by the Airport police. Detectives have involved IEBC as they seek to establish what they are, the origin and the consignee," Kathurima said.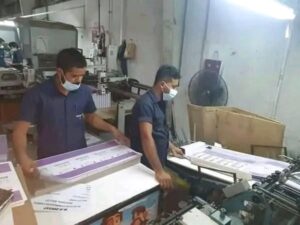 The electoral commission has however refuted the claims over the three arrested foreigners at JKIA being in possession of ballot papers.
"Information circulating that security agencies at JKIA have detained
ballot papers allegedly imported into
country outside the indicated schedule of election materials is fake. The correct position is that the commission yesterday received stickers to aid the labeling and distribution of election materials," IEBC said.