Did you know there is a civil servant who earns more than the Kenyan President?
Through corruption and collusion with the former Board, Kenneth Mwige, the Director General of the Kenya Vision 2030 Secretariat has given himself a salary of Ksh1.5 million per month, way above what the President earns.
According to the SRC Gazette Notice of 2023, the President's salary is pegged at a basic of Ksh866,000 and if you add allowances to his salary, he does not come close to what Kenneth Mwige earns.
Attached below this post is a letter of contract renewal which was done hurriedly by the old Board under Caroline Kariuki as the Chairperson before the new Principal Secretaries were sworn into office.
Look also at the SRC gazette notice attached below this post, and you will see how much the President earns.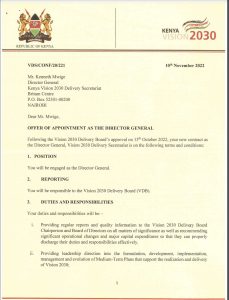 The level of corruption at Kenya Vision 2030 Secretariat under the Director General, Kenneth Mwige surely knows no bounds.
In the past, blogger Cyprian Nyakundi has highlighted the plight of suffering staff, who accused Mr Mwige of poorly managing the development programme by practising outright nepotism and actively promoting debauchery at the organization.
President William Ruto and the new Chairman of the Vision 2030 Board who was recently appointed should send this thug and his cronies of staff at the secretariat packing already.
Kenneth Mwige, colluded with the former Chairperson, Caroline Kariuki (former KEPSA CEO) to renew his contract in advance, in November 2022, with effect from 1st July 2023.
Can you imagine renewing a contract in advance and it has not expired?
They were doing this hurriedly to beat the legal timelines because a new government was in place and was going to make changes.
This Kenneth Mwige is part of the state house cartels that operated under Kennedy Kihaara and were supplying funding to groups that tried to subvert the will of Kenyans at the ballot.
Kennedy Kihaara was the one who threatened Chebukati of IEBC. Kenneth Mwige was under the protection of Kennedy Kihaara.
Their corruption needs to be exposed to the Ethics and Anti-corruption Commission (EACC) and the Directorate of Criminal Investigations (DCI) so that they can be arrested and held to account for milking government coffers dry.