Nandi Senator Samson Cherargei has expressed worry that the constitution will be under attack if former President Uhuru Kenyatta is allowed to remain politically active.
Uhuru, despite being out of office for close to nine months now, has remained active, and is even now fighting for the control of the Jubilee Party, which he formed, with a section of breakaway members.
But Cherargei holds that the former Head of State should be compelled to leave and silently retire, which he holds is what the law says. He notes that the law will be trampled on if Uhuru is allowed to contradict it.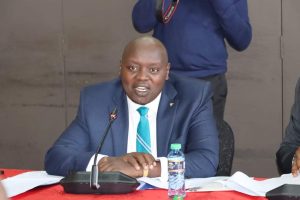 "Personally, I have been complaining against former President Uhuru Kenyatta participating in active politics when the Act specifies that when you retire as the President, you must also remove yourself from political party leadership and stop being active politically," he writes in The Star.
Cherargei, an ally of President William Ruto, has at the same time stressed on the need for the existing state offices, including that of Ruto, to be sufficiently funded for them to efficiently deliver.
He has said that these are legitimate offices that need money to be run, adding that they are also responsible for the major decisions made on behalf of Kenyans, and must be properly looked after.
"When those offices are not functioning, be assured that it will be very hard (for a sitting President) to effectively run the operations of government. These are offices which decide on many key issues necessary for the smooth running of government, like the implementation of projects, developments and many economic, social and political matters," he writes.
But this comes amid reports of serious extravagance and wastage by the same offices, with recent reports showing how millions are being gobbled by the State House on a daily basis.
Controller of Budget Margaret Nyakango has also released a report showing that the government has spent Sh1.4 billion on foreign tours since Ruto came in, with Cabinet Secretaries leading in the spree.