Political tension has gradually continued hitting the peak as the situation continues to worsen at grassroot level. Matters are changing for the worst as politicians struggle to do everything possible in order to be on the safer side and secure votes. This comes with a lot of hatred among them as they and up doing bad things to their colleagues out of envy. This is exactly what is happening in Kirinyaga county among the gubernatorial race contestants.
Anne Waiguru is one of the country's most well-known female politicians. She is well-known not just as the Governor of Kirinyaga County, but also as someone who is always vociferous and, on most occasions, quite contentious.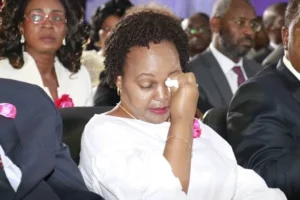 As the country prepares for the general election in August 2022, Governor Anne Waiguru said publicly that she will support Deputy President William Ruto for the presidency while herself seeking re-election to her gubernatorial post.
Waiguru has been campaigning hard in Kirinyaga for quite some time, but things became ugly today, and she was driven to tears after her opponents destroyed her campaign materials. As a result, the enraged governor decided to make a major move ahead of the August 2022 election.
Anne Waiguru expressed her displeasure with her rivals via her official Twitter account before announcing that she will file a formal complaint with the IEBC. She stated that she wants her opponent to be disqualified from the upcoming race as a result of her actions.
Waiguru has been facing opposition in Kirinyaga county since the first day she secured the seat after she beat her opponents who never believed she could beat them hands down.