Drama is unfolding right before our eyes as Senator Sakaja now disowns his name, opening a can of worms as to whether the man known by all as Senator Sakaja is now a different person.
Cases following Sakaja over doubts about his academic background have continued getting serious after petitions were filed to disqualify him. Senator Johnson Sakaja has now written a letter to the Independent Electoral and Boundaries Body (IEBC). In his letter, Sakaja requested that the electoral commission should dismiss the complaint over his degree certificate claiming that he graduated from Team University in Uganda.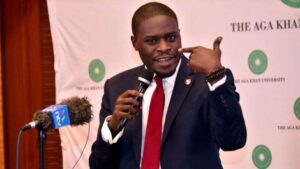 The prominent Nairobi County Senator has written to the Independent Electoral and Boundaries Commission indicating that he is Sakaja Johnson Arthur. He insisted that his name is not Sakaja Koskei Johnson who is named as the first respondent in the complaint. In his note, Senator Sakaja is requesting the commission drop the charges against him and give him the freedom to run his campaigns in peace. This is because such claims have continued raising doubts in those who trusted his work.
The Nairobi County Gubernatorial candidate for the Kenya Kwanza Alliance has stated in a letter to the IEBC that he has never been known, identified, or addressed by the name "Sakaja Koskei Johnson" in any way, or associated with the first Respondent herein referred to as " Sakaja Koskei Johnson " in Complaint No. 230 of 2022 case filed against him.
He told the Independent Electoral and Boundaries Commission (IEBC) that the individual described as Sakaja Koskei Johnson is a complete stranger to the election for the Nairobi County Governor seat on August 9th.
He has maintained that the charges in Complaint No. 230 of 2022, which seeks to prevent him from running for Governor, are entirely about one "Sakaja Koskei Johnson " and not himself by any stretch of the imagination.
This is how Senator Sakaja might easily count himself out the cases following him about doubts over his academic qualifications. The topic keeps on changing as investigations continue to unravel the truth.