Roots Party Presidential aspirant known as Prof. George Wajackoyah and his running mate Justina Wambui Wamae have narrated that the Kenyan education system will change if they arise to power in August this year.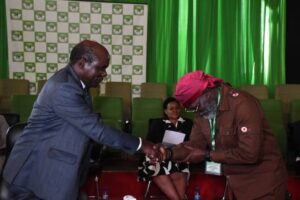 During their interview with Trevor Ombija at Citizen TV on Wednesday, George Wajackoyah stated that the education system will be a discussion that will engage both the parents, the teachers and the government. He stated that the parties will decide will come up with a solution that will suit the child best.
His running mate added on the subject, crediting CBC for bringing into light segments of involvement by parents. However, the lawyer-turned politician stated that whether or not the education system will be suspended is a subject that will be discussed when he accents to power. Speaking about how he will tackle the health system, Prof. George Wajackoyah stated categorically that he would introduce Roots Care, a philosophy that would ensure that the public gets sufficient medical attention.
Justina Wamae stated that their government will introduce good nutrition and ensure that toxic substances such as sugar, which according to them is a very poisonous products. Prof. Wajackoyah maintained that his government will still legalise commercial cannabis farming, adding that agricultural officers will be deployed to ensure that farmers do not plant the wrong seed of the plant.
Prof. Wajackoyah and his running mate are among the four pairs of individuals that were cleared by IEBC to contest for presidency in August of this year. The duo stated that, unlike their competitors, they are going to ensure that they come up with strategies that will ensure that Kenyans have enough money to purchase commodities and access good healthcare. Well, what are your views on this story? Kindly share your insights with us down below. Remember to follow Mambo Mseto for more trending news.