The mother to the late lawyer Paul Gicheru has taken the internet by storm after alleging that her son might have been poisoned by his wife.
Speaking to the media, Josephine Wambui, alleged that Gicheru's wife might have a hand in his sudden demise.
She alleged that it was illogical for her son to collapse and die without a root cause. the mother claimed that he was full of health and that he had not shown any signs and symptoms of ill health that could have perhaps resulted to his demise.
She further stated that the deceased could have been given something harmful that resulted to his sudden death.
"Kuna kitu alipewa akakula, sio rahisi mtu kuanguka na kukufa bure (There is something he was given and consumed, it is not possible for a person to collapse and die without a cause)," Josephine Wambui alleged.
watch video of her statement alleging poisoning
Wambui has now called on the investigative officers to oversee post-mortem on Gicheru's body to establish the cause of his death. She stated that if the postmortem provide proof of foul play, the authorities should take stern action on Gicheru's wife.
Police Report on Gicheru's death
A report from officers at Langata Police Station into the lawyer's death said Gicheru was found lying unconscious on his bed by his son at around 6.30 pm.
Police said Gicheru's son, Allan Njoroge, who is studying in the UK was visiting and the family held a party for him.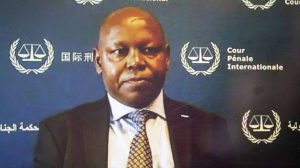 On the fateful day, Allan went upstairs to check on his father and found him lying unconscious on the bed with foam coming out of his mouth.
Njoroge then called his mother Ruth Nyambura Gicheru who told the police that on rushing upstairs, she found her husband lying unconscious. She called a neighbour who in turn called in doctors from Karen Hospital. The medics rushed to Gicheru's home along Miotoni Close in an ambulance.
"After examination, doctors pronounced him dead at the house," the report stated.
The doctors left in the ambulance with Gicheru's son who is said to have collapsed. He is said to be in stable condition.
Gicheru's body was moved to the Lee Funeral Home. Yesterday, the Langata DCI investigators were joined by officers from the DCI homicide unit who will be supporting the investigations.
The homicide investigators collected samples, including leftover foods, bed sheets, and utensils that Gicheru used. These samples will be subjected to forensic investigations to establish if there was foul play. Police Spokesperson Bruno Shioso yesterday said investigations were on.
"We are doing everything possible to establish the cause of death. It's only after the postmortem examination that we can tell what may have transpired," he said.
However, the family, through lawyer John Khaminwa, dismissed claims on social media that Gicheru could have been poisoned.
Khaminwa, who spoke to journalists Tuesday after visiting the family said: "He was in a stressful condition and was not himself. What I am reading on social media that he was poisoned is not true. The son who is in hospital was shaken after seeing his father dying," said the lawyer.
Khaminwa said no food was brought from outside and that all family members enjoyed homemade meals.
Gicheru, on November 2, 2020 surrendered to the Netherlands-based International Criminal Court (ICC). He was charged with allegedly compromising witnesses that were to testify against President William Ruto and journalist Joshua arap Sang. His death has serious ramifications in the ongoing case.