As we come closer to elections, political power has continued to grow at an exponential rate. However, it is unclear how the various roles will be apportioned among various leaders in the event of success. This occurs when Mudavadi leaves many in the dark about his next move because he is not clear.
This follows his statement at today's rally that he will not sign the 30% government accord. He blamed Raila's men for circulating false information in order to mislead the public. Mudavadi stated that he will make a good decision that will benefit the Western region's people. Fake report that Mudavadi would accept a 30 percent government was debunked.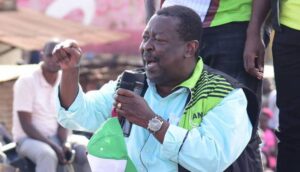 His speech makes it plain that he wants to be given another prominent position aside from what is currently going on. This is something that the Luhya Nation is eagerly anticipating.
Former Vice President Musalia Mudavadi has assured his Luhya people that he and Ford Kenya party leader Moses Masika Wetangula are not insane for signing a deal that they do not support or agree with.
Mudavadi stated today during a visit of Vihiga County that he is not insane and that Wetangula, as a high-ranking lawyer in the country, would not have signed any paper without first reading and consenting to it. He stated that they had a great deal with Deputy President William Ruto before closing and signing the agreement.
He added that the 30% they were provided was legitimate and guaranteed since they knew what they were signing.
"Kwani mimi ni wazimu ama file yangu iko mathare," Mudavadi said, attempting to convince his people that he had properly negotiated
Mudavadi did not deny the presence of a stipulation in the agreement requiring them to deliver 70% of Luhya votes to DP Ruto in order to receive the guaranteed 30%.