Inside sources have revealed that the government will try to stop tomorrow's opposition rally in Nairobi, the Daily Nation's Weekly Review reports
The Azimio La Umoja coalition has invited it's supporters for a rally at the Kamukunji Grounds, after the Kenya Kwanza side passed the Finance Bill.
But the paper reports that Azimio might be planning to use the event to galvanise it's support before kicking off demos against President William Ruto.
It reports that therefore, it is very likely that the government will ban it and deploy officers there to ensure that it does not materialize.It has predicted chaos if the police are deployed, adding that this might mark the start of a tough life for Ruto under Azimio boss Raila Odinga.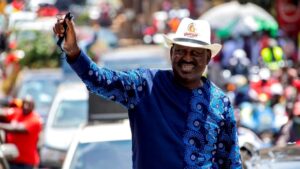 "While the government will be determined to prevent any descent into violence, it will be in a Catch 22 situation at Kamukunji and in future opposition protests because use of force by the police itself often becomes the trigger for chaos. Ruto won the Finance Bill battle in parliament, but the war ahead could be match more prolonger," it reports.
It reports that Raila will obviously try to use the unpopular bill and it's extra taxes to turn Kenyans against Ruto and as an excuse to lead demos.
This comes after some Azimio leaders warned that Ruto is now in for it for passing a bill that will make life even harder for the people.
"I promise you today that there will be a revolution in this country," National Assembly Minority Leader Opiyo Wandayi said in parliament last week.
Before the passage of the bill, Raila had already warned of looming demos upon its passage, while accusing Ruto of using his numbers in the house to punish innocent Kenyans.