In a rare turn of events at the Supreme Court, the Independent Electoral and Boundaries Commission (IEBC) admitted that its KIEMS kits had errors in its serialization. Serialization is the process of translating a data structure into a format that can be stored or transmitted and reconstructed later.
Appearing before the Supreme Court on Friday, September 2, IEBC lawyer Mahat Somane stated that the errors originated from the serialization of the technology gadgets.
"We understood our role in this court is to provide all the information for it to make a decision. We admit that those KIEMS have the same serial number. It was an error that originated at the time of the serialization," Somane stated.
The question came up during the commission's response to allegations that a Venezuelan national, Jose Camargo, manipulated Forms 34A.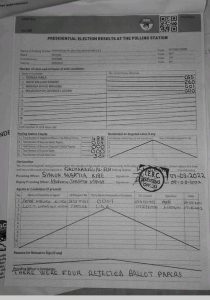 However, Somane attempted to defend IEBC, bringing in other security features in the admission.
"But the KIEMS kits have different identifiers, IP addresses, IMEI, polling station," the lawyer added.
An IP address is a unique address that identifies a device on the internet or a local network while an IMEI (International Mobile Equipment Identity) is a 15-17-digit code that is given to every mobile phone or tech gadget. It is used by service providers to uniquely identify valid devices.
His presentation came at the backdrop of a heated debate between Wafula Chebukati's lead counsel Githu Muigai and Raila Odinga's lawyer James Orengo.
Orengo's team, in a presentation by lawyer Julie Soweto in the early morning hours of Friday, September 2, claimed that the Venezuelan national, Jose Camargo, accessed the IEBC system and manipulated Forms 34A. 
The IEBC lawyer, Somane, explained how Camargo's name was captured in Forms 34A by explaining that the register of the QR code was printed by Smartmatic which supplied KIEMS kits, and was printed in the name of Jose Camargo.
Consequences of Errors in Serials as IEBC Admitted?
The consequences to Mahat Somane's admissions only serve to strengthen the case by the petitioners that the election did not meet the constitutional requirements of fairness, transparency and verifiability as espoused in the constitution.
As Lawyer Willis Otieno noted, such carelessness by the IEBC, and even specifically its chair, would potentially contribute to the nullification of the election and even, as suggested, removal of office of Mr. Wafula Chebukati,
In Mr. Otieno's view, Chebuakti's removal would lead to a term extension of President Uhuru Kenyatta while a new chairperson of IEBC is recruited to run the repeat polls.