Amidst the raging onslaught by disgruntled customers against Equity bank over fraud-related complaints, insiders have spoken out against the bank, opening a lid on deplorable working conditions as a key motivator.
The angry customers urged Kenyans to quit the bank, here is a sample of a graphic illustration shared on twitter.
From diverse sources culminating in a #BoycottEquityBank hashtag on twitter, several victims opened up on the various cases of well planed heists that appear aimed to benefit the bank.
Here is a sample of complaints shared by a twitter user Kimuzi coming from several customers: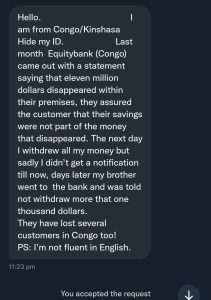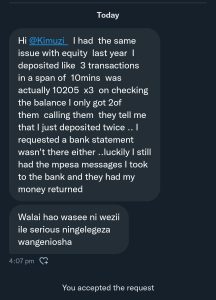 In another instance, Equity Bank employees opened up on their squalid working conditions and how they are then left with no option but to make away with customers' money.
Complaints from Equity Agents Across the Country
In other instances, Equity Bank agents have raised concerns over the massive decline of the once flourishing business venture and their worsening work condition
They accuse the bank's management in Nairobi of unfairly neglecting thousands of its affiliates across the country despite the special service providers playing a major role in handling a huge chunk of their clientele on the ground. An agent claimed that the giant financial institution no longer bothers to service or replace broken Point of Sale (POS) machines.
Some have been faulty for over 5 years, with the bank providing no immediate remedy for the disturbing predicament. All they get are empty promises from the bank's senior managers.
"Please hide my identity.

Equity agents are suffering a lot and silently.

The bank as big as it is, a bank which claims agency business is providing more than 80% of its services, has not been giving out POS machines for new agents nor replacing the damaged ones for existing agents.

This is now for about 4 to 5 years.

Many of the agents have now closed down their businesses as there is no way one can continue paying rent for a business that is not in existence nor remain jobless while your source of income has been stopped with promises that are not likely to be met through empty promises.

Thanks, and please, hide my identity,"
In order to provide customers with easier access, the bank has contracted over 42,000 third-party entities to extend banking services regulated by Central Bank.
They range from retail outlets, corporates in malls and buildings and postal outlets, which are vetted and accredited by the bank across the region.
Blogger Cyprian Nyakundi blamed the fraud cases on Central Bank governor Patrick Njoroge who he termed as a 'puppet' of Equity group chairman James Mwangi.
This whole thing boils down to a rogue regulator led by applying make-up instead of holding banks doing insider fraud like Equity. He is remote controlled by James Mwangi – Nyakundi tweeted