Ruto has skipped a StateHouse event hosted by President Uhuru Kenyatta. Uhuru played host to Zambian President Hakainde Hichilema at State House in Nairobi on Wednesday. An elaborate State Reception ceremony was held for President Hichilema.
Among the activities that happened included a Guard of Honour and a 21-gun salute. President Uhuru Kenyatta hosted a formal banquet in honor of Zambian President Edgar Lungu. Raila Odinga, first lady Margaret Kenyatta, and Eugene Wamalwa were among the leaders who arrived at the venue for the big event.
While the majority of leaders went out of their way to make the Zambian president feel at ease, the second in charge was nowhere to be found. Where might DP Ruto be hiding? Is it possible that he was never invited to the event?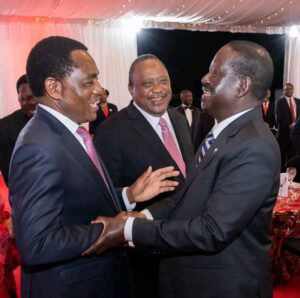 DP Ruto and his boss had been at odds for some time, an issue that was supposed to be resolved after he requested President Kenyatta for forgiveness. Is it possible that he was too preoccupied to attend the state banquet?
While President Uhuru Kenyatta is known to be a strong supporter of Orange Democratic Movement leader Raila Odinga's presidential campaign, the issue on most Kenyans' minds is why did Uhuru fail to support William Ruto as promised, and is he truly trustworthy to keep his promises?
According to sources, the latter met on Wednesday, June 15th, and it is reported that the two formed a bold collaboration on issues such as:
1.) Animal and veterinary medicine.
2.) Improving international interactions, research, and studies.
3.) The Kenya Tourism Federation and the Tourism Council of Zambia are promoting cooperatives.
4.) Information, communication, and technology (ICT).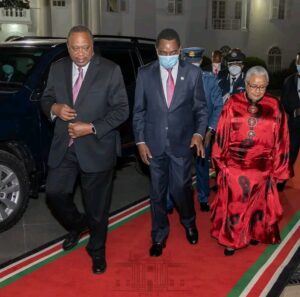 Hichilema is also expected to visit the Nairobi County Innovations Incubation Laboratory and the Maramba Tea Factory in Limuru.
What are your opinions on what Uhuru Kenyatta and his counterpart discussed? Let's keep the conversation going by leaving a comment. Several things prevailed in honour for the Zambian president.