Kenyans will have to pay more for new phones if President William Ruto's new proposed taxes sail through, the opposition has warned.
The Kenya Kwanza administration has proposed new taxes under the Finance Bill 2023, which the Azimio La Umoja coalition has all along been opposed to.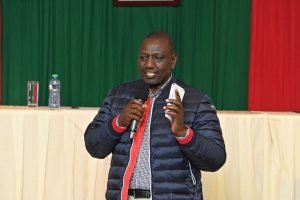 Azimio on Tuesday said that there are even more proposals under the bill, some of which most Kenyans still know nothing about.
It pointed out that there is more about the bill than the 16 percent Value Added Tax on petroleum products and 3 percent housing levy.
Azimio has cited the proposed 10 per cent excise duty on phones, which it says will see Kenyans forced to pay 10 percent more to acquire new phones.
The Raila Odinga-led side has lamented that Kenyans will also have to pay more to send and receive money through channels like M-Pesa if Ruto's push succeeds.
Azimio has said that more money will be deducted from Kenyans' mobile money accounts in transaction charges if the bill is allowed to go through.
"Excise duty on mobile money transactions increased to 15 per cent will increase the cost of mobile transactions using M-Pesa and mobile banking," the coalition said.
It made the allegations while declaring it's opposition to the bill, adding that Kenyans need to know that their lives will become miserable if President William Ruto succeeds.
"Concentrating on the 3 per cent housing levy is like moving the deck chairs on the Titanic! Ruto's Finance Bill 2023 is a masterclass in making every Kenyan miserable. Let's hope there's some kind of 'worse things' discount someplace," the coalition said in a statement.