International Criminal Court (ICC) Prosecutor Karim Khan's office has confirmed receiving the Azimio La Umoja's letter complaining about the latest happenings in the country.
Azimio had written to the court regarding cases of police brutality during opposition demos, alleging that a squad of rogue officers has been set up to brutalise opposition leaders and supporters.
Khan's office has confirmed receiving the letter, but has announced that it will not be making any further information about the issue public, because there exist laws barring it from commenting on such.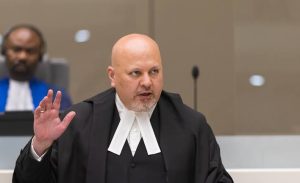 In a communique to the Daily Nation on Tuesday, it added that it is only acknowledging receipt of the letter because Azimio has made it public.
"The office of the Prosecutor does not comment on such communications beyond confirming receipt of such communication if the sender has made the communication public. In this instance, we can confirm that we have received a communication as the sender has made that fact public," it reads.
The court has also said that any person, not only Azimio, is free to write to the court.
"Under article 15 of the Rome Statute, any individual or group may send information on alleged crimes to the ICC prosecutor, who is on duty bound to protect the confidentiality of the information received," further reads the statement.
Azimio is also now accusing Ruto's government of brutality, alleging that police were deployed to deliberately maim and kill opposition protesters in the concluded demos around the country.